Efficient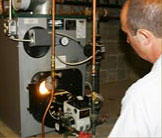 Upstate New York Oilheat Equipment is Efficient
Home heating systems have evolved to warm your home faster and more completely while using less fuel. Meanwhile, Oilheat itself remains the most efficient heating source available, producing more warmth per gallon than any other fuel. Plus, Oilheat's environmentally friendly counterpart, Bioheat® fuel, produces greater warmth than any other alternative heating source. Here are some of the ways Upstate New Yorkers can enjoy improved energy efficiency with Oilheat:
Today's ENERGY STAR®-rated oil-fired boilers and furnaces boast annual fuel utilization efficiency (AFUE) ratings of up to 95 percent or higher! This state-of-the-art efficiency is achieved using weather-responsive controls, oil-condensing technology, variable speed burners, and other revolutionary advancements.

Upgrading to a new heating system can reduce an Upstate New York homeowner's fuel usage by up to 40 percent, providing substantial financial benefits.
Additional efficiency savings can be achieved by installing a programmable or Wi-Fi thermostat that can reduce energy usage by as much as 10 percent.
Upstate New York Oilheat Dealers can install and configure these systems to achieve optimum whole-home comfort and fuel efficiency.